WHC found 4x more top candidates
with RECRU advanced search
WHC Ltd. was formed in 1990 and since then it has become one of the most dynamically developing companies specialized in HR services in Hungary. They kept adding new activities, and today they have 13 offices in Hungary and 22 offices abroad. Their activities are covering the country's area, they have more than 500 partners and more than 1000 job offers available to be accepted.
Founded in 1990, WHC has come a long way and is currently working on finding perfect employees for more than 500 clients. With hundreds of job positions to be filled, WHC's team members fully understand that embracing technology is one of the top criteria for a successful hiring process. With that in mind, the company's leaders decided to keep up to date with HR trends and implement an ATS solution.
In 2020, however, WHC's HR professionals knew it was time for a change. They were unable to use their ATS efficiently because, as described by their management team, the system was "a waste of time due to difficult handling". This is when RECRU HR software came into play as a perfect fit for WHC's needs. Having used RECRU for more than 1 year, the company now considers ATS change a smart move that enabled them to keep growing and stay ahead of their competition.
User-friendly and transparent system
Switching from one software platform to another is no easy task to do. Data migration, employees' reluctance to change, new interface to get used to – these are just a few challenges a company might come across. During the hunt for the right hiring software, WHC's team set their priorities very clearly. They needed a user-friendly and transparent system that could be used immediately – without spending long months figuring out the different functionalities.
As described by WHC's HR advisors, the transition process was smooth and "in a matter of 1-2 weeks it was already fairly easy to use and understand RECRU. Most sections are clear, and it is simple to figure out actions on the platform. The system offers a logical structure and transparency as all information is easily traceable and accessible to all users."
Effortless candidate search
The ability to search for candidate information as efficiently as possible is very important in creating a positive experience for clients, as well as candidates. As WHC confirms, it is also crucial for them to be able to look for candidates in their talent pool in different ways and according to different criteria: "We have many valuable candidates in our database, so searching is really important." Depending on search criteria, there are several ways of searching for information in RECRU. When looking for a specific expression in a candidate's CV, boolean search comes in handy for WHC, as explained by their team members: "In RECRU it's easy to do boolean search, so we can find more relevant candidates in our database. The system helps us ensure a successful placement process for our partner companies." In addition, candidates can be searched for according to any field in their profile – be it location, salary expectations, education history or anything else.
When it comes to looking up candidate information, the feature that WHC makes use of the most, is searching according to candidates' skills which are also referred to as "tags" in RECRU. Tags are extracted from CVs automatically and can be fully managed by users. "We like to use tags – these can help us work efficiently. And we can shape them, according to our needs" adds WHC's IT manager.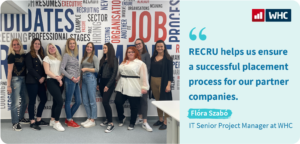 Candidate tracking without hassle
When dealing with hundreds of different job positions that need to be filled, it is key to record all activities related to each selection process. In that way, even the busiest recruiters won't lose track of contacted candidates, interview notes or new job applications. And when all this can be automated through an ATS – even better. With RECRU, tracking candidate progress has never been easier. A quick bird's-eye view of candidate journey from prospect to hire is available through a recruiting pipeline. WHC's RECRU users take advantage of visualizing their hiring processes on a daily basis. As WHC's HR advisors add, they can also "reach the applicants easier because of the system" as the tool offers a direct individual or bulk email connection.
As social media recruitment is currently taking the HR world by storm, all recorded information is immediately available directly on platforms such as LinkedIn, Monster and Xing. With the unique LinkedIn plugin, WHC's recruiters can check a LinkedIn profile and immediately know whether the candidate is already in their database. A single drag-and-drop action is needed to add a candidate to their talent pool. A quick LinkedIn profile visit also offers the list of the company's current vacancies for which the profile is a good match.
Because RECRU is a Cloud-based solution, all data is also shared between team members. This ensures that hiring tasks can be assigned much quicker and the whole hiring process is better and faster. WHC's HR advisors believe that RECRU facilitates communication with their affiliated departments to a great extent. There are also times when an applicant is not suitable for one vacancy but could be a good match for another one. As their team members add, they can "easily rotate candidates between different positions".
RECRU is currently used by 35 HR professionals at WHC. On top of the mentioned benefits, they make use of AI-powered CV screening, direct job posting and advanced reporting. The company also enjoys the ability of tailoring the system to their needs and in accordance with their internal processes. With fully digitized hiring process, WHC's goal to find the perfect job for their candidates, can be accomplished easily and in an incredibly short time.
Start your 14-day free trial
Join 270+ companies already growing with RECRU.
Monthly contracts, cancel at any time
Book a Free Demo with our team
We'll do the setup for you