RECRU created tailor-made solutions to meet VÚB's hiring requirements
As a member of the international banking group Intesa Sanpaolo, VÚB bank operates 128 retail branches and provides banking services to
1.2 million clients. The company recognizes that employees are key to success and offers its team members an inspiring work environment, career development opportunities and a diverse employee benefits package.
Founded in 1992, VÚB is a banking company with more than 3.600 employees. Such an amount of staff members requires an efficient digital solution for tracking all HR-related data. The company's Employee & Candidate Experience Specialist Alexandra Gombošová has recently shared with us the details of VÚB's journey towards a better and faster hiring process.
Understanding the importance of technology in recruitment, the company adopted an applicant tracking system (ATS) to monitor all recruitment information. After some time, however, the tool stopped meeting their goals. "Our previous ATS software didn't fulfill our needs anymore as it didn't respond to the job market situation. The implementation of a new hiring tool was our top priority for 2022," explains Alexandra.
And why is an efficient recruitment platform so crucial? Alexandra has a clear answer: "Having an excellent ATS tool is essential due to the lack of candidates and a large number of available vacancies." In today's candidate-driven market, a hiring platform helps HR teams to move from a reactive recruitment model to a proactive, forward-thinking talent access strategy.
With many ATS products out there, choosing the right solution was no easy task. After thorough research, VÚB decided to implement RECRU as a perfect fit for their needs. And the new hiring software has yielded benefits pretty quickly. "After half a year of fully using the new ATS, we realize how deeply we appreciate RECRU," comments the company's Employee & Candidate Experience Specialist.
Implementation team ready to customize the tool
Integrating new technology into an organization is no walk in the park. And the bigger the business is, the more challenging this task may seem. The corporate setting of the large banking company implied that numerous stakeholders were involved in the process of implementing RECRU. VÚB's HR team, technical and cybersecurity experts, as well as legal specialists had their say during the integration phase. Having attended most of the implementation sessions, Alexandra shares that she has enjoyed the whole experience: "I really appreciate RECRU's professional attitude and great abilities to deal with many stakeholders within our company."
After a complex import of data from VUB's previous ATS, RECRU's development experts were ready to go the extra mile. To conform to the banking company's unique workflow, the tool's GDPR features were customized, as desired by VÚB's legal department. RECRU's technical team implemented various other personalization elements to match the company's demanding requirements. A set of customizations were added to suit VÚB's specific way of managing employees, posting job offers and working with the hiring manager portal.
"We were impressed by RECRU's great effort to adjust the tool to our needs," praises the company's Employee & Candidate Experience Specialist. As Alexandra adds: "RECRU did a great job understanding our company's needs, culture and relations." Following the successful integration, VÚB's HR team is ready to transform the way they hire. "We are grateful for the experience of the tool's implementation, as well as the never-ending patience of the provider and the kind communication of the Helpdesk team," concludes Alexandra.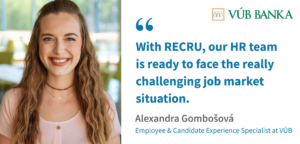 Security and data protection among top priorities
Cybersecurity is important for every business regardless of size or type. For the banking industry, however, it holds truly critical value.
VÚB's cyber security specialists have made sure to implement a hiring solution with strict security measures. "We appreciate that all questions of our developers and cyber security specialists have always been answered in great detail by RECRU's technical team," highlights Alexandra.
As recruitment involves a lot of data processing, the company's HR department ensures GDPR compliance with the help of RECRU. Their recruiters are taking advantage of several dedicated features to stay on top of data protection laws. With the highest security standards adhered to 24/7 in RECRU, VÚB's team has one less thing to worry about and can focus on quality time with their candidates.
Saving time and costs with automation
HR professionals are often faced with time-consuming tasks which take them away from what really matters: building relationships with candidates. Screening CVs, sifting through Excel sheets, manual data entry or scheduling interviews. These are just a few of the many burdens that stand in the way of great hires.
To avoid manual processes and focus on value-added activities, VÚB's HR team is keeping up to date with the latest technology. With automation and smart features like CV parser, LinkedIn plugin or multiple job posting, the company's recruiters can reduce many tedious chores. "With RECRU, our Talent Acquisition Specialists and HR business partners can save a considerable amount of time," says Alexandra.
Saving time and increasing efficiency ultimately means saving resources. By reducing time-to-hire, recruitment costs become significantly lower. Alexandra has revealed that the financial aspect also played a role when choosing their ATS provider: "One of the reasons why we opted for RECRU is the tool's value for money."
With new trends and changes in the HR world, VÚB's team enjoys frequent RECRU updates which reflect the hiring needs: "We value constant improvements and upgrades of the tool," remarks the company's Employee & Candidate Experience Specialist. As VÚB moves forward with their hiring efforts, the company's HR team can rely on a smart technological helper that lets them take recruitment to the next level. Alexandra sums up the tool's benefits in this way: "With RECRU, our HR team is ready to face the really challenging job market situation."
Start your 14-day free trial
Join 270+ companies already growing with RECRU.
Monthly contracts, cancel at any time
Book a Free Demo with our team
We'll do the setup for you