Talentshark achieves 97% placement rate with RECRU
Founded in 2018 in Vienna, Talentshark specializes in finding top-fit candidates for roles in finance, marketing, engineering, sales and HR. Upon creating the company, Talentshark's CEO Gregor Weihs knew that in order to provide clients with the best and fastest service possible, keeping up with technological trends was truly crucial. With more than 100 positions to be filled every year, ATS software was a must-have to Gregor.
When choosing the right hiring tool, the company's top priorities included simplicity, user-friendly interface, as well as transparent costs. The team also needed a well-organized database and an easily manageable hiring process.
All the criteria were met by RECRU HR software which Talentshark has been using for almost 3 years.
Visualizing hiring process with pipeline
Given the fast-paced and competitive hiring landscape, it's crucial for recruiters to gain full control over their hiring process. This may, however, not always be an easy task to do. Inbox filled with tens or hundreds of applications, confusing spreadsheets, multiple folders to separate the different vacancies – these are just a few workplace stress factors that some HR professionals have to deal with on a daily basis. To free themselves from such tedious and time-consuming chores and finally hire without hassle, recruiters opt for ATS solutions where all hiring processes can be easily managed with a recruiting pipeline. This feature enables them to track candidates' journey from prospect to hire in one tab.
In RECRU, all new applications are automatically matched to the respective selection process and candidates can be moved to custom recruitment stages with an easy drag-and-drop action in the pipeline. Through visualizing candidate progress, Talentshark's recruiters hire with confidence and ease every time. "Recruiting pipeline is the most important feature for the overview of our hiring processes," emphasizes Gregor. For interview invites, rejection or job offer emails, Talentshark's team takes full advantage of bulk mailing using custom templates – all directly from the pipeline. As Gregor adds, with the help of RECRU, his team can "reduce administration time by up to 40% through automations and templates". The list of the company's most valued RECRU features also includes an integrated video meeting tool that helps them to conduct online interviews much more efficiently.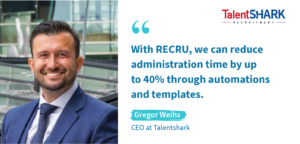 Artificial intelligence changing the HR world
In the current candidate-driven market, HR teams need to be prepared to constantly innovate their hiring process. To attract the most qualified talent and stay ahead of competition, more and more HR professionals rely on digital recruitment tools. These can automate manual processes and let recruiters focus on what matters the most – quality time with candidates.
At Talentshark, innovation belongs to the top priorities. As the company's name suggests, its team members are truly eager to find the best talent for any job opening. To achieve this as quickly as possible, the company's team makes full use of AI-based matching algorithms in RECRU. After entering selection criteria for a job, the list of top matches from their talent pool comes up immediately, together with an exact suitability percentage of each candidate.
But the list of AI-powered features used in recruitment is much longer. Technology is, for instance, finding its way into the CV screening process. The days of manual CV review are long gone. Talentshark makes use of a tool known as CV parser. This technology based on machine learning automatically extracts relevant information from CVs and creates new candidate profiles within seconds. In that way, the company's team can save many hours every day and move on to more valuable and strategic tasks.
Cheaper, more logical and simpler solution
ATS interface is a kind of "bridge" connecting the user and the system and is directly related to user experience. For that reason, Talentshark's CEO made sure to choose a hiring solution with a user-friendly design. After implementing RECRU, his team was able to start using the tool immediately – without having to spend months figuring out its functionalities. And if any doubts or questions ever occur, reaching the support team can be done easily through a live chat. "The customer care team is very fast, eager and always friendly." says Gregor.
When comparing the tool to other ATS software products, Talentshark's CEO describes RECRU as "a cheaper, more logical and simpler solution." Gregor also appreciates the flexibility of RECRU's development team, especially when it comes to tailoring the ATS to the company's specific needs. "Customization is always welcome and it enables us to adapt the tool to our internal processes", says Gregor. As the company's leader concludes: "RECRU makes our everyday life easier and helps us save plenty of time."
Talentshark's professional competence, combined with RECRU's modern AI-based tools and automation features, enable the company to achieve a 97 % placement success rate, while turning their candidates into employees in an incredibly short time.
Start your 14-day free trial
Join 270+ companies already growing with RECRU.
Monthly contracts, cancel at any time
Book a Free Demo with our team
We'll do the setup for you