DEKRA Development speeds up employee documentation by 70% with RECRU
As a member of a business group with over 48 000 employees around the world, DEKRA Development's team is ready to constantly innovate their hiring process. Eager to embrace new technology, the company's director Filip Slabej likes to explore new tools that can maximize their hiring efforts.
To keep track of all selection processes, the company was using an internally developed hiring platform. When the software stopped meeting their needs, the quest for a new applicant tracking system began. During the research of various ATS options, the company's team set pretty straightforward goals. "We needed to streamline our work with a large amount of data, automate manual processes and create an organized candidate database," mentions Filip.
After careful consideration, DEKRA Development opted for RECRU ATS which has been helping them hire more efficiently for over 6 years.
HR documents are essential to recording all activities and events related to the organization. With a long to-do list and busy schedule ahead, recruiters often see HR documentation as a rather overwhelming task.
At DEKRA Development, the human resources department is in charge of a large amount of administrative work. Employment contracts, termination agreements, offer letters – these are just a few of many documents the company's recruiters deal with on a regular basis. To prevent human error and save time, DEKRA's HR team decided to automate the document generation process. Through custom templates in RECRU, recruiters easily generate bulk documents with personalized candidate details. "We consider automated document generation as one of top RECRU features," says Filip. All documents are nicely organized in the ATS and accessible at any time and from anywhere. In this way, the company can streamline HR files and ensure secure document storage.
And what was the outcome of the new automated workflow? The company's efforts bore fruit quickly and the results are impressive. DEKRA Development's director has shared some concrete figures with us: "With RECRU, we can speed up employee documentation by 70%."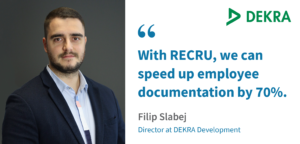 Hiring process got 30% faster
With multiple vacancies advertised across different job boards, DEKRA Development's hiring team has a high volume of new job applications to manage. To avoid the lengthy task of assigning every applicant to a job position, the company decided to automate this process with RECRU. All CVs are instantly matched to a selection process and screened by AI-powered technology. With predictive analytics and advanced filtering options, top candidates can be identified within seconds. The fast recognition of top matches is making a big difference to the company's hiring team: "The process that has improved the most since adopting RECRU is candidate selection. It's a very time-consuming task but with the hiring tool we manage to save many hours every day," points out Filip.
The company's HR department can now work much more productively. As Filip reveals, "With RECRU, we are 40% more efficient with CV selection. Overall, we have managed to speed up our hiring process by 30%." By automating manual and repetitive tasks, DEKRA Development's team can focus on engaging with candidates, as well as other activities that add value to their business.
Individual customer approach
Adopting a new hiring tool can be a challenging process for any business. But when you have a dedicated team that helps you throughout this journey, the whole implementation burden suddenly becomes much lighter.
During their search for a recruitment tool, DEKRA Development's leaders made sure to choose a customer-centric ATS provider. "Compared to other hiring solutions we were considering, the individual approach of the RECRU team is what convinced us to opt for RECRU," confirms Filip. The company's hiring team went through a series of training sessions that helped them become more confident with the new platform. When commenting on business relationship with RECRU, Filip was quite generous with praise: "I appreciate great customer service, innovations, as well as the ability to customize the ATS according to our needs."
As DEKRA Development moves forward with their hiring and business plans, RECRU will always have their back and help them turn candidates into employees in an incredibly short time.
Start your 14-day free trial
Join 270+ companies already growing with RECRU.
Monthly contracts, cancel at any time
Book a Free Demo with our team
We'll do the setup for you