Techband cuts time-to-hire by 50% with RECRU
Techband is building a technological ecosystem which connects stellar developers with great opportunities. The company is constantly on the hunt for attractive projects, hosts monthly learning and networking opportunities to advance the freelance career of IT developers. Currently, 30+ developers cooperate with them mainly remotely and they are growing by more than 100% year-over-year.
Focusing on IT recruitment, Techband is a company made up of true innovation enthusiasts. With an increasing number of new applicants, technology has quickly found its way into Techband's hiring process. To track all recruitment data in one place, the company's team decided to search for an ATS platform.
Techband's HR & Marketing Manager Marianna Szarková has shared with us the team's main priorities during the hunt for the right hiring tool: "We needed to track candidates' progress easily, reduce our time-to-hire and improve the communication among our HR team members. RECRU has met all of our criteria."
Having used RECRU for over a year, Marianna says that the ATS software has more than lived up to their expectations: "We have started tracking the process from the initial contact to hire and we now manage to cut our time-to-hire by up to 50%"
LinkedIn recruiting made easier
For companies like Techband that focus on finding top tech talent, LinkedIn is an essential social media platform. In today's competitive hiring landscape, it provides the perfect environment for getting in contact with potential candidates.
During our interview, Marianna repeatedly emphasized the importance of RECRU's integration with LinkedIn. Not only does RECRU enable direct job posting on LinkedIn, the hiring platform also features a unique LinkedIn plugin. This browser extension allows recruiters to check whether a LinkedIn profile is a good match for their open roles directly on LinkedIn – and without having to switch between different browser tabs. Relevant candidate details are automatically extracted with an AI-powered CV parser and can be added to the talent pool with a single drag-and-drop action.
"LinkedIn plugin is one of the top features that convinced us to choose RECRU as our hiring tool. It saves us a huge amount of administration time," comments Marianna. With all the extra time, Techband recruiters can now focus on what really matters – quality time with their candidates.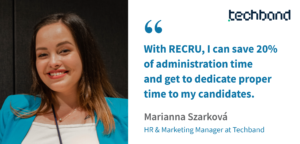 Applicants matched to jobs immediately
With several job roles advertised at the same time, recruiters often take hours to keep track of all incoming applications manually. Matching profiles to jobs, screening CVs, typing down candidate details, figuring out who suits the position's criteria – all of this can become a truly time-consuming chore. But what if AI-powered software can master this within seconds?
Techband's team enjoys the automated process of matching candidates to jobs. Marianna particularly highlights the tool's ability to extract skills which get used for advanced search in the database:"We consider filtering candidates by skills as one of top RECRU benefits. It lets us search for the best matches easily. Advanced filtering also gives us a better overview of our talent pool's quality."
As far as time-saving is concerned, Marianna sums it up in this way: "With RECRU, I can save 20% of administration time and get to dedicate proper time to my candidates."
What role does customer care team play?
Working with new software can be similar to moving to a new home. Getting used to a new interface and all its features is often a stressful process. To set new customers up for success, we believe that thorough customer onboarding should always be given priority.
Marianna has shared with us that RECRU's customer care team made their experience with the new tool as smooth as possible. "Since the very beginning, we have received great tech support so getting started with the new platform was not difficult at all. After a few onboarding sessions, RECRU quickly became popular with our team." The company's HR & Marketing Manager also enjoys the opportunity to approach the RECRU team with Techband's specific requirements: "When it comes to the cooperation with the RECRU team, we appreciate that they are open to customizing the product according to our team's needs."
With new exciting projects and clients based in CEE, Germany and the USA, Techband's team is ready for skyrocketing their business. And throughout this journey to even more success, RECRU will always be there to help them hire as efficiently as possible.
Start your 14-day free trial
Join 270+ companies already growing with RECRU.
Monthly contracts, cancel at any time
Book a Free Demo with our team
We'll do the setup for you