Employees are the key to company success
Candidate testing is a standard procedure at the beginning of a selection process, as it will allow you to build up a general picture of the new employee's qualities. This information will determine whether you'll hire or reject a candidate. However, a much more valuable source of information which can be critical for the long-term prosperity of your company, is the evaluation of your employees and their work efficiency.
Even if your employee gained 10 out of 10 points during a job interview, the reality in the workplace can be very different. Efficiency in the workplace can be influenced by a variety of factors, such as some personal prerequisites, specific skills, adhering to safety and sanitation standards, productivity and many more. These, as well as various other aspects, can affect the workplace performance in a positive or negative way. By gaining more information, you can get an overview that will help you understand the work ethics, detect potential failings and increase the productivity of your workplace.
Accurate information forms the basis of success
First of all, have a think about what information about your employees would be helpful for you. What qualities of an employee form the prerequisite for discipline, efficiency and prosperity of your company? These factors may differ depending on a specific position. Based on this, create a list of questions that you will get the first line supervisor of the evaluated employee to fill in. Are you asking what you can gain by this? Thanks to this knowledge, you might be able to recognize those employees for whom their position is not really a good fit and who, as a result, are not an asset to your company.
Evaluation questionnaire with immediate results
If you want an excellent overview of the strengths and weaknesses of your employees, create an evaluation questionnaire directly in RECRU HR software. You will be able to set a variety of values as answers and sort questions into categories. Once it's filled in, RECRU will provide you with an automatic evaluation and data output. In an easy and quick way, you can get a well-arranged digitized analysis of employees that you will never lose track of. RECRU can smoothly manage the processing and storing of any amount of data. Get RECRU for free for 30 days and increase the prosperity of your company by getting to know your employees better.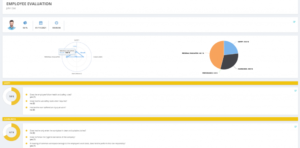 Stay in the loop with everything you need to know.