7 tips for successful recruitment on LinkedIn
Recruitment strategies have changed a great deal over the past few years. One of many practices which have been growing rapidly from day to day is recruitment on social media. The LinkedIn platform offers ideal conditions for researching new talents among over 750 million users.
Social recruitment has become a common strategy among many recruiters, especially during these challenging times marked by many restrictions when life has been moved to the online space and social media sites turned out to be in the spotlight of socializing. These times have become the impulse for developing social recruitment strategies. There are 3.2 billion people active on social media every day. The high concentration of people at one place makes it easier for recruiters to increase their reach, approach specific target groups and find the best candidates. The power of social media is proved by the fact that more than three quarters of the survey respondents found a job through social media. Social recruitment has a number of other benefits, and that is the reason why it is used by more than 92% of the questioned recruiters. The fact that 73% of respondents aged 18 – 34 found their job thanks to social media also shows how powerful this communication medium is.
The right platform is the key to successful recruitment
The foundation stone of a successful social recruitment strategy is definitely the choice of a relevant platform. Nowadays, there are many of them on the market. Before making the choice itself, a thorough analysis of the target group should be done. Its function is to define an environment with the highest probability of presence of the best candidates for the recruited position. To put it in a nutshell, choose a platform which is used by your potential candidates the most. The second crucial point is the functions and the tools of a social media platform which should be used in order to make it easier for a recruiter to look for candidates with specific skills.
The most used and definitely the most popular platform in the HR world is a social media site called LinkedIn which is utilized by the greatest number of recruiters.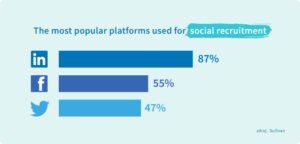 LinkedIn recruitment in numbers
LinkedIn is the greatest professional platform in the world which is connecting specialists from many different areas. Moreover, it offers a wide range of sophisticated tools adapted specifically to searching for people with distinct skills. This is exactly what makes the LinkedIn environment perfect for recruitment. Those are the reasons why LinkedIn is a more convenient platform for the HR field than Facebook, for example. Facebook has a greater number of users but also a very limited supply of recruiting tools.
Total number of LinkedIn Users – 756 M+
Total number of open jobs on LinkedIn – 15 M+
Total number of professionals on LinkedIn – 690 M+
Total number of people who use LinkedIn to search for jobs every week – 40 M+
Total number of companies listed on LinkedIn – 57 M+
Total number of received interview letters for a job applied for via LinkedIn – 122 M+
Total number of people hired through the platform – 35 M+
LinkedIn is placed in the spotlight especially when it comes to searching for employees from fields with high competition where candidates' qualifications are of great importance, such as IT sector, law, management, sales etc. That is why the social recruitment is a favourite practice of headhunters who search for top candidates and recruit for high positions.
A well-prepared strategy of social recruitment is based on building trust, content prepared in detail, thorough tracking system, researching and much more. Your effort might be useless if there is not a good enough preparation. In the next sections of this article, we are listing down some tips for building solid foundations of a successful strategy on LinkedIn.
1. Create a credible profile for yourself
If you are not a user of this platform, sign up. What you need to think through beforehand is your intention. It is necessary to adapt your "LinkedIn persona" to the one you aim to perform as on LinkedIn. Before creating a profile, ask yourself these questions:
 Who are the ideal candidates I am searching for?
What is the impression I want to leave behind for my audience?
What is the communication style I want to use with my audience?
What content do I wish to share with my audience?
Having clear answers to these questions might help you to choose the correct way of communication from the very beginning. Likewise, these answers might be helpful when deciding whether to present yourself as a natural person or to build your company's name by using the LinkedIn company page.
Some of the great worldwide companies with enormous numbers of followers have even created a separate page which is used for researching new employees. Usually, these pages are named after their company but terms like Careers, Jobs or HR are added to the page title. Even though these profiles tend to have a lower number of followers, it is very likely that this list of followers mostly includes people with a real interest in a job within the area. Furthermore, thanks to separate accounts, companies can easily avoid dissatisfied followers who would probably get annoyed with all the shared job offers.
When creating a successful account or page, another inevitable step is filling out all the information carefully and in detail. It may sound obvious but it is a very important aspect which will affect your credibility and will help you to build your brand awareness. Would you want to work for a company you know nothing about? Spend enough time working on your profile to make sure that your potential candidates won't have to spend hours looking for some contact information, your location or a clear company description. More than 55% of people look for company information on social media.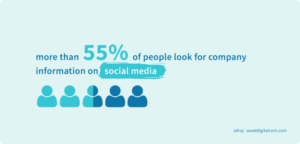 "In 2020, the LinkedIn platform was ranked as the most credible social media site."

The visual aspect is also important. Whether you present yourself as a natural person or a company, another crucial point to think about is the profile and cover photo. People tend to consider profiles without these pictures as non-credible or fake. Completing your profile in detail as one of the first steps is a great start of successful recruiting, but it is not just a one-time setup. From time to time you should get back to your profile to update even the smallest details to always present the most relevant and the latest information about you.
2. Get to know your target group better
Another important step is finding a way how to reach the candidates you are searching for. However, this goal is preceded by a long journey of not just creating an eye-catching profile but also of much activity, great content, networking and much more. The sooner you start, the quicker you will achieve your goal. There are many ways on how to connect with your potential candidates.
Join some relevant groups

When it comes to LinkedIn, the easiest way to search for groups that might include the right candidates is by using keywords. Are you looking for a software developer? Join IT groups where these types of people share their knowledge, experience, news or advice. If you want to discover the full potential of these groups, become a valuable member of their community. Watch the shared content, the active members and then eventually try to join discussions. However, forget about spamming the members with annoying job posts. The best way to approach the group's members is by raising their awareness of you gradually by posting interesting content or maybe even joining different discussions with your own ideas. In this way, you may gain a lot of followers organically and build your own audience step by step.

Create a group for your potential audience

If you don't think that LinkedIn offers you enough relevant groups, create one of your own. Even though the process is much more time-consuming, building your own community provides a bigger number of options in terms of managing its content or getting a closer look at its members.

Raise the reach of your job offers through your employees

If you are an internal HR recruiter, connecting with your employees is a proven method how to reach new people from a similar field. Your employees' activity connected to your posts also gets displayed in their profiles so it may attract more people to your company page. Your employees can actually get involved directly in the recruitment process if they share your content on social media. This proves to be the most effective way as content shared by employees has 8 times bigger engagement than content shared directly by you. The same strategy applies to recruiters in employment agencies.
3. Gain experience from other LinkedIn recruiters
A lot of professional knowledge, advice and many trips or tricks can be gained from other recruiters who might inspire you and help you to perfect your recruitment strategy. No matter how much you already know, you can always learn something new. Below, you can find the list of the most popular recruiting LinkedIn groups that you should definitely join.
4. Share representative content
The content itself is the alpha and omega of social media sites. Without great content, they would simply not exist. The same applies to brand building, expanding a community, gaining suitable candidates and, of course, successful recruitment on social media. From the very beginning, you should think about the direction you want to take. Be active and share content which is unique, memorable and interesting for your followers.
Successful recruiting strategy on LinkedIn and other platforms is very closely connected with successful brand building. Unique content is the only tool through which you can get to the talents you are seeking.
96% of B2B marketers use LinkedIn for organic content distribution and 83% for the paid one. These data make LinkedIn the most used platform in both types of content distribution.
According to Paula Saphira and his analysis of 3,000 most successful blog posts on LinkedIn, successful posts should follow these rules:
the title should be composed of 40 – 49 characters
a post should contain at least one image, ideally even up to 8 image
posts with inserter multimedia has low readability
"how" and "how-to" are always the most read posts
do not use a question in the title
write in a simple and understandable way as if the post was written for an 11-year-old
posts with 1900 – 2000 words have the highest readibility
posts published on Thursday have the greatest number of views
Sometimes the details are what decides – pay attention to grammatical errors or the way of communication with which you approach different discussions. It is very likely that your followers will see your activity so before publishing anything, consider possible consequences.
5. Post job offers
It is natural that LinkedIn, as one of the greatest professional job platforms, also offers tools for creating and publishing job offers. A possibility of creating a job offer can be found in the section "Jobs" in the top-right corner of the navigation menu, specifically in the section "Post a job". However, the same rule applies here – the more unique the content is, the more followers are interested.
On LinkedIn, it is possible to post job offers and collect candidates either for free or as a paid service. Paid publishing is a fantastic tool for increasing your reach, but a certain budget is needed in this case. Paid tools such as LinkedIn Recruiter and LinkedIn Talent Hub offer you more sophisticated functions for job posts and candidate search.
If you choose to publish for free, you should follow these simple tips for increasing your reach:
use company information channel – share job offers through your account or by using the company page
ask your employees to share job offers on their personal accounts – if your firm provides referral program, the employees will be even more motivated to share it
share job offers in LinkedIn groups – consider the frequency of your posts to make sure they don't become annoying for the members.
If you plan to post a bigger amount of job offers regularly, a great solution for avoiding a manual form-filling process is the integration of ATS software. If you are not using any HR software and are currently researching your options, make the connectability with social media sites and other portals one of your priority when making the decision. RECRU HR Software offers a simple way to publish job offers not only on LinkedIn, but also on your own career pages, as well as more than 2000 job portals worldwide. The biggest advantage is the possibility to save time as posting job offers takes just a few clicks – all from one place and without the need visit the job portal itself.
6. Notice the details in candidates' profiles
Profile screening is a common part of social media users' lives. Not just recruiters, but also employers are curious about their employees' lives on social media. Up to 37% of employers admitted going through the accounts of their employees on social media. Over the past few years, this kind of screening has become a valuable tool which provides a considerable amount of information about a candidate. If you are looking for real talents on social media, build the basis of your candidate's analysis on details which are offered by their profile.
Communication style and grammar

How does the candidate join discussions? What is their style of communication? Are there many grammatical errors in their posts? Just a few minutes of reading their posts can tell you a lot about their grammatical and communication skills, professionalism or even about their personality.

Shared content

LinkedIn is a great tool to enable you to watch whatever activity a candidate is involved in – whether it is their own post, commenting or just a simple like on someone else's photo. What are the opinions the candidate likes to promote? Don't they have a tendency to discriminate in their comments? What is the main idea of their opinions? All of these might help you decide whether or not the candidate is suitable for the position.

Photographs

Visual content tends to be more attractive. A study from the company The Ladders has shown that recruiters on LinkedIn spend up to 19% of their time looking through pictures rather than reading some relevant information about candidates. Photos are a major tool which helps to portray a character. They can say a lot about what kind of people the candidate likes to be around, how they like to spend their free time and can also help you to spot a party animal who enjoys binge drinking every weekend.
7. Step up your game in searching for candidates on LinkedIn
The efficiency of your social recruitment strategy can always be pushed a level higher. Thanks to fast technological progress, the market offers many innovations which can make your work with candidates on LinkedIn even more sophisticated and faster.
As mentioned above, a great solution for automation of job offer posting is the integration of ATS software. Such software products offer many benefits which will make every step of your recruiting process easier for you.
When it comes to the integration with LinkedIn, a feature which is definitely worth mentioning is the LinkedIn plugin developed by RECRU. It is a Google Chrome extension which is available within RECRU ATS Software. This plugin enables you to promptly find out your candidate's suitability for the recruited position. This is possible directly in the LinkedIn interface without any need to leave this tab in your browser. You can import a candidate into your database by simply downloading their CV from LinkedIn and dropping it to the plugin window. In addition, you can also see which of your open positions the candidate is suitable for.
Stay in the loop with everything you need to know.