4 Top benefits of automation in HR
The future of any company lies in the hands of its employees. To ensure success, it is crucial to boost the efficiency of your team so they can really focus on what matters the most – talent search. Many recruiters are still wasting their precious time with old school manual recruiting processes which are nothing more than a time burden for your HR department.
91% of recruiters claim that they spend way too much time on administrative tasks while 93% believe that reducing tedious chores would help them enhance their creativity. For many companies, the way to tackle this challenge is with automating as many routine processes as possible. All you need is software that will let the power of artificial intelligence take care of many repetitive tasks for you.
An HR process which is now fully automated is payroll management. With the help of technology, an admin worker can avoid spending weeks on calculation, document management and individual salary payments. On the other hand, the tasks which have only been affected by automation very little so far include employee onboarding or employee reward management.
HR software products make talent acquisition easier and more efficient by automating the whole process of sourcing qualified candidates.
1. Less paperwork – more real recruitment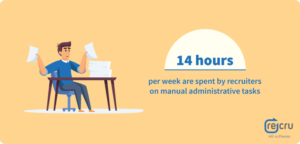 A CareerBuilders survey shows that recruiters who don't make use of any automated processes spend up to 14 hours a week on manual administrative tasks. These time-consuming activities decrease the work efficiency of HR departments and deprive recruiters of the time they would rather spend on job interviews, training sessions, networking, HR trend following or strategy improvements.
Introducing HR software allows you to save money and time by making many processes a lot less complicated and faster.
Database building even without recruiter's presence
The list of features of some HR software products includes a so-called CV parser – a tool powered by artificial intelligence which can screen candidates' CVs and extract relevant information. Data entry which would normally take recruiters many hours to enter manually can be handled by this software automatically and in an incredibly short time.
For instance, the resume parser of RECRU HR Software can recognize incoming resumes directly in your mailbox, analyze their content, extract applicants' personal details, skills, job and education history and add nicely structured profiles to your candidate database. The biggest advantage is that the whole process runs in the background even without a recruiter's presence and takes less than a second.
Improving onboarding
When new employees get hired, recruiters are often flooded with paperwork. Entry of data into spreadsheets, document sorting, information check and other routine repetitive tasks which stand in the way of the smooth running of HR departments, not to mention tons of contracts, official documents, health certificates and much more. Some HR software products are so sophisticated that they can help you process these documents within a few minutes or notify you of important dates like GDPR consent expiry. By automating these processes, recruiters don't only gain a lot of time but can also enjoy extra space in the office with a larger, more productive work area. On top of that, going paperless will help preserve our planet's health.
The list of automation benefits is far from complete, though. It is worth noting that according to iCIMS, employee turnover is three times higher for new employees who are onboarded manually, compared to those who are onboarded automatically. The company claims that HR automation reduces onboarding costs by more than 80%. Considering the employee turnover rate and costs of manual onboarding, it is, without a doubt, worth investing in automated HR systems.
2. More top-quality candidates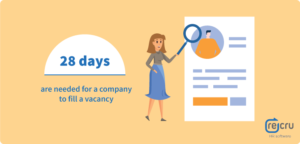 On average, it takes 28 days for companies to fill a vacancy while the most challenging and time-consuming part of the process is finding the most qualified candidates. Embracing automation is nowadays becoming vital to hiring top talent before your competitors do.
Artificial intelligence can speed up the selection process by offering you a short list of suitable candidates. This feature is often referred to as predictive analysis or predictive selection and it helps recruiters to immediately find the best candidates from their database without the need of manual CV screening.
AI-based software can calculate whether a candidate is a good match for your job openings by extracting skills from their resume and comparing them to your selection criteria. In this way, it promotes a fair recruitment process by eliminating unconscious bias and enables companies to focus on applicants' qualifications. With predictive selection, HR professionals can easily identify top candidates and save 75 % of their time. The technology has a great potential and is greatly appreciated in hiring processes with large volumes of applicants.
3. Flawless team cooperation – faster hiring process
Good team relationships, successful time management and individual motivation are crucial to ensure that an HR department can run smoothly and achieve great results.
Fast communication is really the key here as it enables team members to stay up to date with everything and organize their tasks efficiently.
HR automation boosts the productivity of individuals, as well as large teams. Among various automation systems, the winners are Cloud-based HR software products, as all you need to start using them is internet access. Such a system lets you keep perfect track of all your team's work at any time and from anywhere. You can easily check your selection processes, candidate database or do a quick search for any data you need. As a result, your company is able to hire better and faster.
Some more sophisticated HR software products also include features which let you manage referral program, plan activities or share latest news with your colleagues. Remembering the dates of all interviews, team building events or your colleagues' birthdays is no easy task to do. With automation, however, you won't miss any important dates ever again.
4. Data-driven success
The expression "If it's not on paper, it didn't happen" should not necessarily be followed in the HR world where recruiters can lose track of important things in their paper piles within seconds. The future of HR lies in a paperless system which helps you eliminate manual errors and lets you focus on more valuable and creative tasks. Going paperless comes in handy also when trying to measure the success of an HR department or a whole company.
With an automated HR tool which generates your reports automatically, you can easily identify shortcomings and take steps to improve them. Clinging to old and outdated processes does much more harm than good and what's on paper only counts if the paper is not forgotten or misplaced. Report automation allows you to keep your whole HR under control, evaluate real and accurate data in a short period of time and easily recognize your company's needs.
Embracing the automation technology is also vital when it comes to the security of sensitive data which are processed – for instance, your company results or revenue. With HR software products, your data are kept safe and secure as access is only granted to authorized users.
Embrace automation and transform the way you work
It's no secret that artificial intelligence is taking the HR world by storm. Some, however, still fear such a change. As many as 35% of recruiters questioned as part of a CareerBuilder study claim that the thought of a robot taking over their work makes them nervous. Few people realize that automation has already been a part of their work for many years. AI is very unlikely to fully replace the human element of HR as humans are the ones shaping the company culture, creating personal interactions with candidates and bonding with team members. All this is vital to achieving company goals. AI can't think outside the box, develop complex strategies or deal with complicated scenarios and constant changes. This side of our behavior is unattainable to machines.
HR automation can, however, help you save countless hours that you normally spend on tedious repetitive tasks. AI-based HR software will let you speed up your day-day-day processes, boost the whole team's productivity, eliminate errors and reduce costs while increasing talent.
Stay in the loop with everything you need to know.