5 trends to speed up post-pandemic recruitment
The COVID-19 pandemic has undoubtedly been the most significant driving force for changes in the past few decades. Besides many other sectors, it has left visible traces in the world of recruitment. Although some changes have not been exactly ideal, other newly introduced practices have proven to work well and their popularity keeps growing due to the benefits they come with. Many recruiters are likely to appreciate the new ways of working even after the pandemic is over.
In a recent survey conducted among 500 HR specialists, almost 90% stated that due to the pandemic, they have adjusted their approach to hiring new employees. The negative aspects of the pandemic have included budget cuts, workforce reduction and a decrease in the number of interviews. Recruiters have been forced to completely change their established recruitment methods and find complex hiring solutions that would suit the current situation in the society.
In a span of few months, many established practices got replaced by new methods that would otherwise take years to get adapted. Luckily, some new approaches that recruiters found very challenging at the beginning of the crisis, have proven to be highly efficient. Making recruitment much easier and faster, these new ways of working are likely to be among the top HR trends not only in 2021.
1. HR in the Cloud – work from anywhere
Moving the workplace from the office to the comfort of your home occurred unexpectedly and caused many difficulties to unprepared recruiters. If you belong to the lucky people who only needed to move their work computer and managed to avoid a lengthy search for necessary documents in a file cabinet, you're fairly well off. You haven't won the first place prize though. The winners of these times are those whose only need for workplace change is internet access. The biggest advantage of a cloud-based recruitment system is that it provides you with access to your whole HR – database, contacts, documents or selection stage management – at any time and from anywhere.
A cloud-based solution has many more benefits, of course. HR departments with teams consisting of several recruiters make use of such systems because of the synchronization of data to which all team members have access at the same time and because data entry is faster and more accurate than in an Excel-based system. Moreover, your data is safe and the implementation does not require complicated installation, licenses or unnecessary investments.
According to Indeed, more than a half of all job applicants spend more than a week waiting for the employer's response. A cloud-based recruitment system offers you a competitive advantage as thanks to being able to access it from anywhere, you never lose track of your recruitment process updates and are able to response quickly to everything that requires your attention.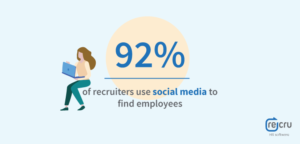 Social media sites have become a significant part of the modern life – even more so during the times of strict anti-pandemic measures when social media became the centre of socialization, allowing us to stay in touch with family, friends and the outside world. This transition to the social media world motivated recruiters to also search for their employees through these online platforms. Recent surveys suggest that during the last year, up to 92% of recruiters switched their focus of attention from the traditional methods to searching for employees on social media which they still continue to use up to now.
Recruitment through social media has many benefits. It can, for example, be a great way of raising awareness of your brand. Recruiters, of course, also appreciate the possibility of quick screening through the profiles of potential candidates with the goal of finding out whether a candidate is really suitable for a position. In addition, analytical tools can easily collect information about the audience and help you to target your advertisement specifically at people who might be interested in your job offer.
It is estimated that 87% of recruiters use LinkedIn to look for new talents. About 55% of them use Facebook and 47% use Twitter. LinkedIn offers an ideal environment for social recruitment as it allows the recruiters to determine the search criteria in order to find candidates with a specific skill set.
3. Video interviews
Face-to-face job interviews will probably keep being used as one of the traditional recruitment processes but it was during the pandemic when many recruiters realized that personal contact with the candidate is not so crucial. Already in April 2020, 20% of HR managers stated that video interviews would become a permanent part of their recruitment strategy as they consider them just as reliable as traditional interviews.
Video interviews offer a breakthrough solution for recruiters, as well as candidates. As no transportation is required, video interviews save time and help companies to decrease recruitment costs. And there's more! The majority of respondents believe that the biggest advantage of video interviews is an easier rejection of a candidate and a shorter interview duration.
As far as video interviews are concerned, the choice of an appropriate online meeting tool also plays an important role. The ideal solution should be fast, reliable and as user-friendly as possible. The market offers many applications that enable video meetings with candidates, however the majority of recruiters state that the easiest alternative is having this feature available as part of their HR system which allows an immediate access to all contacts, candidate information and the actual connection with the candidate.
4. Predictive selection – a guarantee of top-quality employees
In times when the job market is filled with many unqualified candidates applying for any job position, HR departments truly appreciate an AI helper that makes hiring decisions easier for them. Predictive selection is based on calculating the percentage at which your candidates are suitable for a position – out of hundreds of jobseekers, the system offers you a narrowed-down list of the best matches.
Predictive selection helps you to save the time spent on application processing or interviews with unsuitable candidates and helps you to make your recruitment decisions faster and easier. HR Software that sifts through your candidates is getting more and more popular and appreciated among recruiters as it increases the speed and quality of your recruitment processes due to its ability to select the most qualified applicants that meet the criteria of your position.
5. Recruitment automation
Automation technologies were gradually transforming the world of recruitment even before the pandemic, however the difficult times of crisis have fully revealed the efficiency and usability of automation in this sector. 75% of recruiters believe that this year and in the next few years, technology will play a major role in the hiring process and that automation will be used more and more with the goal of making recruitment more efficient. This assumption got confirmed during the first wave of the pandemic when many HR departments had to implement cost-saving measures. In order to manage the same amount of tasks with a lower number of employees, many companies opted for HR software products which are globally the cheapest and the most powerful alternative.
Today's HR software products can automate many different processes and significantly shorten the recruitment process. One of such software products is RECRU HR Software whose integrated automation processes can save 30% of your time. RECRU processes CVs without the need of manual data entry, creates a candidate database without your presence, keeps track of GDPR consent expiration dates and automatically tests the suitability of every candidate for your active selection procedures. It also allows you to set up automatic replies to candidate applications – and in this way, takes care of your PR work.
Stay in the loop with everything you need to know.