4 Reasons to start using CV parsing
Day-to-day HR tasks may be quite diverse in every company. What most recruiters have in common, though, are high volumes of new CV's and job applications arriving in their mailbox every day. According to Small Biz Genius, the average job opening attracts as many as 250 CV's. With such a large amount of documents to be processed, more and more organizations are relying on smart solutions which let the power of AI take full care of CV screening.
In companies where CVs are still screened manually, recruiters are often forced to spend very little time and effort on CV scanning. Out of all applicants, they might just pick a few lucky ones whose CVs can hook them at first sight – without any thorough analysis of the CV's content. Some HR specialists even claim that CV review takes them no more than 6 seconds. As a result, recruiters waste a large amount of their time and energy and organizations lose out on top-quality candidates whose CVs are simply left behind to gather dust.
So, is there any way out of this situation? Well, this is where AI tools come into play. The times of manual data entry are luckily long gone and tech innovations are reshaping the way HR departments operate. A tool known as CV parser can free you from the lengthy process of typing candidates' details into spreadsheets and do all the work for you within seconds.
CV parser refers to a tool powered by artificial intelligence which screens CVs at scale allowing recruiters to dedicate more time to high performing candidates. This technology can scan large volumes of documents, analyze them and extract information HR professionals need. Data such as name, email, phone number, address, skills, job and education history get automatically recognized within seconds. With the nicely categorized data, you can easily identify your top matches based on their skills, keywords, location or other criteria.
These days, more and more companies rely on HR software products known as Applicant Tracking System (ATS) to manage their selection processes. According to Capterra, as many as 75% of recruiters and hiring professionals use ATS to make their recruitment more efficient. Some of such solutions also offer a CV parsing tool as one of the integrated features. In practical terms, automatic CV screening directly within your ATS means that all job applications are automatically processed without having to upload your data from one system to another. Nicely organized candidate profiles are automatically saved in your database so you can start working with them immediately – filter out the best matches based on your selection criteria, send bulk emails, generate documents or test their knowledge within any field.
If you don't use any ATS so far, but consider taking advantage of such a solution in the future, make sure to set your priorities when searching for the right software. If your company's efficiency is hampered by manual data entry and other routine paperwork, you might want to opt for an ATS with an integrated CV parsing tool.
Let us now guide you through the biggest benefits of CV parsing.
1. Database building even without recruiter's presence
Imagine that you are looking to recruit an admin assistant fluent in French. On Friday afternoon, you simply post the job on several different job boards. Let's say that during the weekend, 100 candidates apply for this position. The CV parser recognizes every new application in your mailbox and processes it immediately. Are you wondering how? Well, the technology based on machine learning analyses the whole CV content, extracts relevant information, creates an organized candidate profile in your database and assigns it to the respective selection process – all this within a second. If you come to the office on Monday morning, all you need to do is check out this position in your ATS and see the list of these 100 applicants along with their structured profiles. Instead of spending the following days downloading, screening and sorting CVs, the system offers you nicely organized information on your applicants on a silver platter. And the best thing is that the whole process runs in the background and even without your presence. Once you have all the details sorted into well-arranged categories, you can easily work with them – it takes a few clicks to filter all candidates with an advanced level of French and Microsoft Outlook skills, and send them a bulk email with an interview invitation.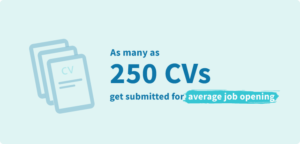 2. Time and cost saving
There are several different reasons why recruiters choose a career in HR. Some aspire to help candidates on the journey to their dream job, others get attracted by the fact that it is a very dynamic and people-oriented profession. However, after actually taking up the role, many HR specialists learn that their idea of what a typical HR day may look like, is far from reality. Screening and sorting CV's, document management, entry of data into spreadsheets and manual search for candidates who meet the selection criteria – this is just a small part of routine paperwork that they need to deal with on a daily basis. On average, recruiters spend 3 to 4 hours a day on routine administrative chores. If you want to stop drowning in paperwork and finally have more time for real recruiting, opt for automated solutions which, without a doubt, include CV parsing. Sophisticated features of HR software products let you reduce the time spent on administration to a third. At the same time, your company can avoid having to hire extra staff to screen CV's and type data into spreadsheets so you can cut your recruitment costs while increasing your talent.
3. More top-quality candidates
The success of any company relies on the strengths of its employees. Their performance, skills and reliability determine the organization's efficiency and growth. According to the US Department of Labor, the cost of a bad hire represents up to one third of the employee's first year earnings. When it comes to candidate selection, there is definitely a lot at stake. With all the time-consuming tasks you need to get done every day, you might sometimes feel tempted to simply shortlist those candidates whose CV you found interesting at first glance without any thorough analysis. In the long term, though, with such a superficial approach to your selection processes, you might be facing numerous risks. The costs of interviewing, hiring, and training a new recruit are high and are wasted if the employee ends up being a bad hire. Other negative consequences of hiring the wrong person include bigger workload for other employees, less credibility in the eyes of clients or even worsened reputation of your company. But what if you need to fill a job vacancy very quickly and you have tens or hundreds of applicants to choose from? There is no need to panic as you can still keep up with your standards without having to pull a few all-nighters. Just let CV parsing become a part of your hiring process and the top talents won't get lost in the piles of paperwork. Once you finally put an end to manual data entry, you will be left with lots of extra time to get yourself ready for interviews with the best applicants. So the chances of finding a perfect match for the position will be higher than ever.
4. Social media recruitment taken to the next level
Recruitment strategies have changed a great deal over the past few years. A powerful tool for talent acquisition that has been rising in popularity is definitely social media. If you also belong to recruiters who like to search for potential candidates on platforms such as LinkedIn or Monster, artificial intelligence might be of great help to you. For instance, the ATS solution RECRU HR Software has taken CV parsing technology one step further and offers automatic CV screening directly in the social media interface – all thanks to a unique browser plugin. If you come across an interesting candidate whilst searching through various LinkedIn profiles, you can add them to your ATS database with a single click. At the same time, the details from their LinkedIn profile are automatically extracted and saved into organized fields in your ATS – all without having to switch between different browser tabs. On top of that, based on your selection criteria, the technology automatically matches social media profiles to your current job openings so you can identify the top talents immediately.
Stay in the loop with everything you need to know.