Railway company screens CVs 6 times faster with RECRU
The key to every company's success are definitely its employees. This view is also shared by the Slovak railway company which employs more than 13 000 employees who make sure that rail transport is reliable and secure. Such a numerous team undoubtedly requires an efficient hiring solution. When several HR departments of the company were developed in many cities across the country, the team decided to implement a centralized ATS tool which was also necessary due to a large amount of retiring workforce.
When choosing the right software, the following features were crucial for them:
candidate database
searching for candidates according to specific crtiteria
tracking all communication with candidates
integration with job portals
GDPR automation tools
reporting and analytics
good price
All the criteria were met by RECRU HR software which the company has been using for more than 4 years.
HR digitization and automation increases the productivity of individuals, as well as big teams. Solutions which are currently gaining more and more popularity are Cloud-based systems which only require internet access and enable team member to track and create changes.
The railway company is also enjoying the benefits of the Cloud-based solution: "As our company has departments throughout the whole country, it is important to have a system which provides a place for sharing all information on communication with candidates, selection process stages or data on the age, location and education of our applicants. All this is crucial for analyzing the success of our hiring activities." With RECRU, all employees can keep perfect track of the whole selection process. The shared data ensure less errors and faster information search and so the different hiring tasks can be assigned much quicker. As a result, the whole hiring process is better and faster.
Data processed immediately
When taking up an HR role, many recruiters learn that the job doesn't only involve communication with applicants and conducting job interviews, but also many routine administrative tasks. Day after day, they might spend hours dealing with overwhelming paperwork, rather than engaging with candidates. Manual CV screening, document management, entry of data into spredsheets and so on and so forth. On average, recruiters spend 3 to 4 hours on paperwork. Automation and many AI-powered features of RECRU ATS can free HR professionals from tedious chores and enable them to dedicate more time to real recruiting.
It was the automation of CV screening that the railway company considers the biggest breakthrough: "All job applications are imported to the system and assigned to the respective selection process. Candidate details are extracted from their CV automatically which allows us to spend time on other activities." says the company's hiring manager Jana Jurčinová.
When it comes to job posting, the company's HR departments work extremely efficiently and create all job postings directly from the RECRU interface – all in a few clicks. With each new application, a new candidate profile is created automatically and it contains all the necessary information – personal details, education, job experience and skills.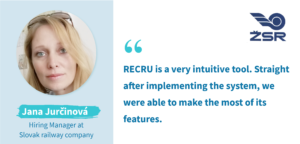 Intuitiveness and support
Business growth often requires keeping up to date with the latest trends and not being afraid of innovations and new technologies. Introducing new software in a company, however, often involves many challenges, especially in the initial stages of implementation as all team members need to become familiar with the new tool and its features.
The hiring manager describes RECRU's implementation process at their company as a very smooth journey: "RECRU is a very intuitive tool. Straight after implementing the system, we were able to make the most of its features." She also praises the cooperation with the customer care team: "Anything that needed to be solved, was taken care of by the friendly support team." The railway company is constantly improving the quality of their hiring process also thanks to several customized solutions which are tailored to the company's needs and internal processes.
At this company, RECRU is currently used by 9 HR professionals. In addition to the already mentioned features, they take advantage of filtering candidates according to skills, video interviews, calendar feature, mobile app and GDPR automation. To keep track of their hiring success, they also enjoy automatically generated reports.
The longtime user of RECRU Jana Jurčinová evaluates the software's benefit in the following way: "With RECRU, we are able to track very important data on job applications, education and age of our applicants, as well as information on their location and quality. RECRU helps our hiring team to always stay on the right track." With this HR tool, the railway company can constantly keep growing and turn their candidates into employees a whole lot faster.
Stay in the loop with everything you need to know.