HR Support reduces candidate search time
by about 50% with RECRU
When starting a recruitment agency, HR Support's founders Zuzana Kňavová and Andrea Machajová quickly learnt that spreadsheets were far from being effective. Given the large volume of CVs received on a daily basis and the need to ensure GDPR compliance, a smart hiring tool became a crucial factor for achieving success.
During the hunt for the right ATS software, HR Support's priorities included advanced candidate search options, speeding up the selection of top candidates and streamlining the whole recruitment process from the initial contact to hire. "We got convinced by the easy usability of the tool and its visual design. Advanced analytics, automatic emails and API were just the icing on the cake which intensified our positive impression of RECRU," points out Zuzana.
Having used RECRU for more than 2 years, the duo is sure they would never go back to the previous way of working. "Giving up on a system which runs like a Swiss watch would be a huge mistake," agree the company's founders.
Screening and sorting CVs, scheduling interviews, manual data entry, chasing down clients or hiring managers for feedback – this is just a small part of routine repetitive work that HR professionals need to deal with on a daily basis. And no matter how amazing and skilled recruiters are, they only have a limited amount of time to get things done. To keep up with all the time-consuming tasks, many HR employees rely on an ATS solution which automates repetitive chores and lets them focus on quality time with candidates.
After starting their journey with RECRU, HR Support's team managed to speed up the whole process of selecting suitable candidates. "No more time-wasting with manual data search. No more spreadsheets or chaotic flipcharts filled with notes. Everything is now nicely organized in RECRU and accessible anytime," points out the company's co-founder. When it comes to concrete results, Zuzana confirms that HR Support has recorded considerable progress. "The team's efficiency has increased a lot and we have managed to reduce candidate search time by about 50 %".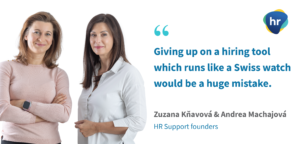 Maximizing candidate experience
In today's candidate-driven market, employers need to pay close attention to the impression they give throughout the whole recruitment process. The overall candidate experience can have a huge impact on applicants' decision to accept a job offer.
HR Support's co-founder confirms that after implementing RECRU, their candidates quickly observed better quality of their hiring process. "We use automatic emails, as well as GDPR automations. During the pandemic, many candidates also appreciated the possibility of online video interviews which are possible directly in RECRU," comments Zuzana.
With the hiring tool, the company's team can make sure that at each stage of the journey, candidates build a positive picture of how their business operates, how well they communicate, as well as the company culture and values.
Innovations to keep up with HR trends
In the constantly changing HR world, companies need to stay up to date with the latest industry trends in order to advance further. HR Support's co-founder Zuzana also shares this view and appreciates that RECRU's development team is always thinking of ways to improve the product so it fits the current HR needs.
With new features getting released on a regular basis, the company is always given a chance to make their hiring process even more efficient. "We value RECRU's innovativeness and new development ideas. Overall, it is a user-friendly product which gets developed based on clients' needs," adds Zuzana.
The company's co-founder was also pleasantly surprised that they were able to use RECRU to its full potential from the very beginning – thanks to the assistance of the customer care team. "The technical support team is easily approachable and ready to help at all times." As Zuzana Kňavová sums up, "RECRU is a smart helper which makes our work incredibly easy."
Start your 14-day free trial
Join 270+ companies already growing with RECRU.
Monthly contracts, cancel at any time
Book a Free Demo with our team
We'll do the setup for you